About Us
Our 2016 -2018 Board
Mission: Zonta International is a leading global organization of professionals empowering women worldwide through service and advocacy.
Vision: Zonta International envisions a world in which women's rights are recognized as human rights and every woman is able to achieve her full potential. In such a world, women have access to all resources and are represented in decision-making positions on an equal basis with men. In such a world, no woman lives in fear of violence.
Members of the Zonta Club of Quaboag Valley include health care professionals, business owners, accountants, real estate agents, postmasters, marketing specialists, human resources executives, horticulturists, systems analysts, volunteer workers, and homemakers.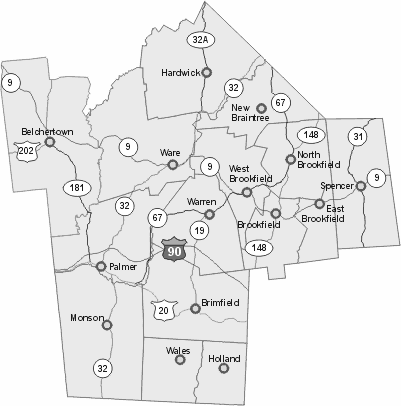 The Zonta Club of Quaboag Valley is part of Area II (Western and Central MA), which is part of District 1 (CT, MA, RI, NH, VT, ME USA and Nova Scotia, CA), which is part of Zonta International (65 countries). Members are invited to other club meetings, intercity meetings, district conferences and seminars, retreats, workshops and the biannual International Conference.
Quaboag Valley is comprised of Western Massachusetts towns in Hampden, Hampshire and Worcester counties. Quaboag Valley towns include Belchertown, Brimfield, Brookfield, East Brookfield, Hardwick, Holland, Monson, New Braintree, North Brookfield, Palmer, Spencer, Wales, Ware, Warren, West Brookfield. In addition, the Zonta Club of Quaboag Valley has members from Chicopee, Hampden, Ludlow, Westfield and Wilbraham.
Membership in Zonta International is by club invitation to individuals working in a decision-making capacity at least 50% of a normal workweek or retired from such a position.
Examples of Club Activities
Soldier On – Women's Program and Homeless Veterans
We are very proud to be working with a courageous group of women veterans staying in a transitional housing program at the Northampton Veterans Administration Leeds, MA campus.
Legislative Awareness, Advocacy initiatives
• Sponsored Speakers (money and awareness raised) for the following: ACT NOW! – building confidence and character in young girls, Dress for Success in Springfield – supporting women victims of DV returning to the workforce, Link to Libraries – providing donations of new books to schools in areas of poverty, Breaking the Silence – sharing the plight of immigrants in our area who are victims of female genital mutilation, and Resolving Conflicts/Reaching Solutions – how to move on after things blow up, Opportunities for Communities – working in Haiti to improve lives of impoverished,
• Participation in 16 Days of Activism Against Gender Violence by forwarding DAILY information and links to 300+ individuals
• "Domestic Violence: Through the Eyes of a Child" was an event organized by the District 1 Area 2 Zonta Clubs of Springfield, Northampton, Quinebaug and Quaboag recognizing Domestic Violence month. It was attended by over 80 people from local education and service organizations who work with children.
Support for Local Initiatives
• Silent "No More!" Auction profits for the last five years have been split between International projects aimed at stopping violence against women and children, and local projects, such as:
Palmer and Tri-County Domestic Violence Taskforces to support women and children in abuse situations
Womanshelter Companeras, assisting, supporting and empowering those affected by battering and abuse
Palmer High School and Pathfinder Regional Vocational Technical High School to support projects aimed at protecting children from abuse and bullying
Massachusetts Society for the Prevention of Cruelty to Children (MSPCC),
American Foundation for Suicide Prevention (AFSP) Western MA Chapter
WestMass Elder Care, preserving the dignity, independence and quality of life of elders and disabled persons
Bridges, Inc. bridging the gap between resettlement and citizenship
Soldier On Women Veterans, preserving the dignity, independence and quality of life of women veterans and expanding transitional housing for female veterans who have found themselves homeless since leaving military service.
• Library Literacy projects
• Local Food Pantries
• Christmas for Kids projects
Scholarships awarded
• Young Women in Public Affairs Award, which recognizes young women for their demonstrated leadership skills and commitment to public service
• Jane M. Klausman Women in Business Scholarship open to women enrolled in at least the second year of an undergraduate program through the final year of a Master's program in business, leading to a business management career. The program is designed to encourage women to enter careers and seek leadership positions in business related fields in their communities and throughout the world. The Jane M. Klausman Scholarships look to the women of today to be the leaders of tomorrow.
Other projects:
• Donated non-perishable food items to local food pantries
• Donated toiletries to local shelters
• Donated and packaged sweatsuits for rape victims brought to local hospital
• Donated raffle gift baskets to local library in support of literacy
• Participated in local CleanUp projects
• Donated hundreds of holiday presents for children in the Quaboag Area
• Donated several items to Eritrean refugee (North Eastern Africa) currently living in Western MA with her three small children and provided monetary support to young man dying of Aids
• Collected and donated over 20 dresses/gowns for Prom Season for children who needed support
• Supported Stepping out Against Domestic Abuse (local domestic task forces project), Habitat for Humanity project in Monson, and Relay for Life walk
• International Women's Day – Yellow roses with note of appreciation and information on Zonta were hand delivered to over 30 business women in our area.
• Donated and assembled 22 Yarn Doll kits for women and children in local shelters
Support for International Initiatives
All of our members have made individual donations to the Zonta International Foundation, and at least one-third of donations from Golf Tournaments, Poinsettia sales and Raffles were sent to:
• International Service Fund
• Amelia Earhart Fellowship
Prospective Member Resources:
Membership FAQs – information about what is involved
Member Questionnaire – form for applying for membership