Silent "no more!" Auction
When:
May 7, 2018 @ 5:30 pm – 8:15 pm
2018-05-07T17:30:00-04:00
2018-05-07T20:15:00-04:00
Where:
Ludlow Country Club
Tony Lema Dr
Ludlow, MA 01056
USA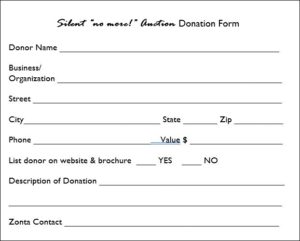 PRESS RELEASE
April 2017
FOR IMMEDIATE RELEASE from the Zonta Club of Quaboag
Mary F. Knight, Communications Chair, 413-219-8260, MFKnight@crocker.com
Patricia Pupek, Auction Chair 413-626-5656 PatPupek@comcast.net
Silent "no more!" Auction to benefit local organizations
Ludlow MA – The Zonta Club of Quaboag Valley will hold its Silent "no more!" Auction on Monday May 8, 2017 6pm at the Ludlow Country Club, Ludlow, MA.  The event is held annually to raise awareness and funds for projects aimed at stopping violence against women and children.
Local beneficiaries this year are: YWCA YouthBuild Springfield – providing low-income youth with pathways to break the cycle of poverty and abuse through learning construction, job readiness and life skills, along with commitment to work, education, family and community. And, Soldier On Women Veterans – preserving the dignity, independence and quality of life of women veterans.   Past recipients have included Ludlow C.A.R.E.S., the Palmer Domestic Violence Task Force, Carson Center's Domestic Violence program, Bridges Inc, Tri-County Domestic Violence Task Force, Womanshelter Companeras, WestMass ElderCare, local chapters of the American Foundation for Suicide Prevention and Massachusetts Society for the Prevention of Cruelty to Children; and Bullying Awareness/Prevention programs at Palmer High School and Pathfinder Regional.

Admission of $30 provides guests a chance to bid on a large array of valuable items, services and themed baskets donated by members, friends and local business; savor a generous buffet meal in a relaxing atmosphere, overlooking the Ludlow Country Club; and enjoy the company of like-minded individuals. 
Reservations (requested by April 26th) can be made by contacting Marge Cavanaugh by phone (413-283-6448), email (mecqltr@comcast.net) or by mail (57 South Street, Three Rivers, MA 01080).  Cash, checks and credit cards accepted for auction Items and admission. We invite you to visit zontaqv.org for educational materials on the challenges being faced by the beneficiaries of this year's event.
Donations of Auction items are still being accepted.   Contact Joanne Turner-Chiacchia at (413) 668-8546 or joannetc@comcast.net with Donor name—item description —value – Info on delivery or pickup needs.
The Zonta Club of Quaboag Valley is now a 501(c)(3) nonprofit organization.
###